Wimborne Minster – or simply Wimborne as it is known locally – is an attractive market town in East Dorset. Many of the original buildings in the town centre have been preserved because of planning restrictions, so Wimborne now contains some of the finest examples of 15th, 16th and 17th century architecture in Dorset.
Wimborne's Historic Town Trail
Wimborne's Historic Town Trail is composed of three separate trails, which can be combined into a single, enjoyable 2-hour trail around historic Wimborne or done individually, according to time available. There are 12 green plaques located at places of special historic interest along the trail:
First Methodist Church
Old Grammar School
Deans Court Lane
Albion Inn
Matthew Prior's Birthplace
Allendale House
Wimborne Parish Workhouse
Priest's House Museum
Tivoli Theatre
Gulliver House
Victoria Hospital
Wimborne Railway Station
A leaflet, including a map showing the location of the plaques, is available for purchase from the Tourist Information Centre or the Town Council Office.
Wimborne Minster Church
Wimborne Minster is a Saxon church with Norman and Gothic architecture. It is famous for its unique chained library as well as the tombs of King Ethelred (the brother of Alfred the Great), John Beaufort, Duke of Somerset, and his Duchess (the maternal grandparents of King Henry VII of England).
At the top of a spiral staircase, which was built over 600 years ago, is the old Treasury. This housed the wealth of the Minster until it was confiscated by Henry VIII. The Library was founded in 1686 and is the second largest chained library in the country. It was also one of the first public libraries. The central display case contains a manuscript written on lambskin in 1343, a book bound for the court of Henry VIII, incunabula printed in 1495 on the works of St Anselm, and a Paraphrase of Erasmus printed in 1522 with a title page designed by Holbein.
Tivoli Theatre
The Tivoli is a 1930s art deco cinema and theatre, where the tradition of showing both films and live stage shows continues to the present day. Big audiences for major shows were traditional at the Tivoli and the theatre has once again achieved the status of a major 500 seat venue. For information on current events at Wimborne's Tivoli Theatre, visit www.tivoliwimborne.co.uk.
Priest's House Museum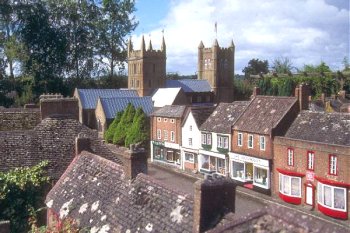 The Priest's House Museum occupies 10 rooms in a Grade II listed historic town house in the centre of Wimborne Minster, and tells the story of East Dorset from prehistoric to modern times. The museum contains important social and local history material relating to domestic and rural life, crafts, trade and childhood, as well as archaeological artefacts, photographs and costumes. From the 17th century hall to the Georgian parlour and working Victorian kitchen, the museum's rooms show what life and work were like for Dorset people in the past. The award-winning garden includes a display of large agricultural and horticultural implements and the Boat House Tea Room. An admission fee applies to the museum.
Wimborne Model Town
The model town is one of the largest and most established model towns in England. The models are an exact 1/10th scale replica of Wimborne town centre as it was in the 1950s. The attention to detail is second to none; even the shop windows display the goods and services which were available to the town folk all those years ago. The model town is set against a backdrop of beautiful gardens, where visitors can sit, relax and enjoy the tranquil scenery. Tea rooms and a gift shop are also available. An admission fee applies.
WIMBORNE HOLIDAY FACT FILE
Map of Wimborne
Download a free map of Wimborne town centre (PDF, 105 kB) to help you find your way around the town.
Wimborne Tourist Information Centre
29 High Street, Wimborne, Dorset BH21 1HR
Tel: 01202 886116
Email: [email protected]
How to reach Wimborne by public transport
There is no train station at Wimborne but there are regular train services from London Waterloo or Bristol to Poole. There is also a bus service from London Victoria Bus Station to Poole. Local buses run from Poole to Wimborne and taxis can usually be found outside Poole train station.